Best Practice Tip:
Earned-Value
When we speak of Earned Value, we are generally speaking of a methodology that is used to track and monitor the health of a project. While Earned Value is just one methodology, it is an excellent predictive tool. The simplest way to think of Earned Value is to equate it with physical progress measured against the baseline in budgetary terms. As the name implies, it asks, "What did I get for what I've spent? In Earned Value project management, value can only be earned as components are delivered.
Consequently, Earned Value is a measure of tangible progress. There is a direct relationship between Earned Value and percent complete, although percent complete is more suspect. That is, many tasks have been known to go to 90% complete, and then stay 90% complete for a really long time.
The attributes of Earned Value are threefold. First, it is a uniform unit of measure for total project progress or for any sub-element of the project. Second, it is a consistent method for analysis of project progress and performance. Third, it is a basis for cost performance analysis of a project.
The diagram below depicts a summary of the information that can be determined by using an earned-value system.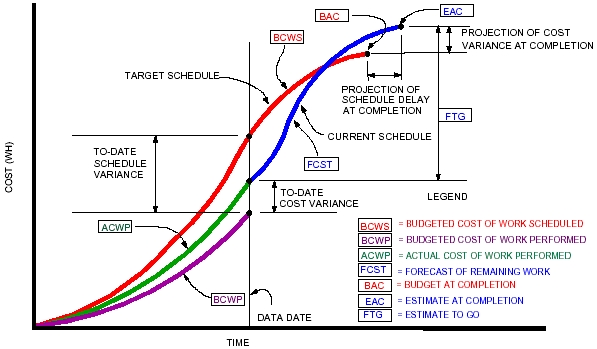 Click here to see expanded image


The BCWS is the Budgeted Cost of Work Scheduled. Quite literally, it represents the budgets of the activities that are planned or scheduled to be completed.

The ACWP is the Actual Cost of Work Performed. Again, quite literally, it represents the actual cost charged against the activities that were completed.

The BCWP is the Budgeted Cost of Work Performed. This is the traditional Earned Value that we speak of. It represents the planned cost of the activities that are actually completed. The distinction between the BCWS and the BCWP is that the former represents the budget of the activities that were planed to be completed and the latter represents the budget of the activities that actually were completed.

These are the three major components of Earned Value. At any point in time, we have the planned work, the actual work and the cost of the actual work. This allows us to make the full analysis of our project progress and performance.

Some of the other, related terms shown in the figure, include the Budget At Completion (BAC), the Estimate At Completion (EAC), the Schedule Variance (SV) and the Cost Variance (CV). All of these indicators, when used consistently, can provide an accurate measure of project health.